Coalition of Surfing Clubs Contest Series
PBSC is a proud member of the Coalition of Surfing Clubs
The Coalition brings together clubs from up and down the California coast (including Baja California) at various surfing events throughout the year.
In order to compete in Coalition events, you must be a member in good standing of on of its member clubs. Joining PBSC gives you such an opportunity, and is yet another reason to beome a member! In order to enter Coalition events listed on this site, you must first be registered on the site as such. If you have any questions on how to do so, please refer to this page:
https://www.pacificbeachsurfclub.com/membership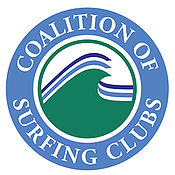 More info on the Coalition along with a link to the website:
Supporting Clean Ocean Water Locally and Globally
Enjoy the Ohana of Non-Profit Surfing Clubs
The Coalition of Surfing Clubs (CSC) is an international organization that represents the interests of surfing clubs throughout California and the world. It acts as a united voice to address issues related to coastal water quality, beach access, development, and legislative policy. The Coalition represents over 10,000 surfers of all ages and exists for the betterment of the citizenship of the surfer, to improve clean water locally and globally and to promote the sport of surfing.
There are no events in the selected category